Coros Vertix Full Specifications, Features and Price
Release date:: May, 2019
Display:: 1.2 inches, Memory LCD, Touchscreen
Body:: 76 grams, Titanium
Battery Life:: 45 days
Compatibility:: Android and iOS
EDITOR'S RATING

| | |
| --- | --- |
| Design: | (4.6 / 5) |
| Battery: | (4.7 / 5) |
| Fitness tracking: | (4.6 / 5) |
| Features: | (4.0 / 5) |
| Price: | (3.9 / 5) |
| Average: | (4.4 / 5) |
Last updated on May 2, 2021 6:30 pm
Compare
Description
Coros Vertix Full Specifications and Features – Coros Vertix is a high-end premium GPS smartwatch built with some of the most durable materials such as a titanium case that extends to the bezel while Sapphire glass with DLC coating covers the screen, it's also loaded with a lot of in-depth fitness tracking features and a long battery life that keeps you tracked for up to 45 days from a single charge.
It has a 1.2 inches LCD display that is easy to read both indoors and outdoors. There are four physical buttons by the side in addition to touchscreen support that contributes to making the Vertix easy to operate. And it rated 15ATM, this makes it waterproof up to 150 meters, so its safe to wear to the pool or ocean. There's the night mode that keeps the display always-on, but limits drain on battery life.
The Vertix will track your heart rate continuously, sleep, calories, and more. It features blood oxygen monitoring that gauges how well your blood absolves oxygen and can suggest when it's the save to continue climbing, and there are over 200 workout exercises to choose from as well as the option to create your own custom workout plan, and you can also share this plans. As a GPS smartwatch, Vertix has features that make it ideal for outdoor activities tracking for routes, location, pace, distance, and other related metrics. It also has a compass that helps you determine your orientation and direction.
The Vertix offers 45 days long battery life with regular usage, 60 hours with continuous GPS tracking, and 150 hours in UltraMax mode. Furthermore, the Vertix is also a decent personal assistant that beeps you whenever you receive a notification on your phone.
Coros Vertix Features
1.2 inches always-on LCD display, bright and colorful with touchscreen and 4 physical buttons.
Customizable watch face and 22mm interchangeable silicone straps.
Keeps you connected to all that matters to you, so you never get to miss important updates.
Rated 15ATM, waterproof upto 150meters makes it swim-proof and ideal to wear to the pool or ocean.
45 days battery life on regular usage.
Night mode keeps the screen always-on with reduce impact on battery life.
Coros Vertix Fitness Features
Tracks your heart rate continoiusly and calories.
Tracks your complete sleep cycle.
Inbuilt GPS enables it track your outdoor activities such as locations, distance and pace.
Has compass that enable find your orientation and direction.
Over 200 Preloaded workout exercises.
Features triathlon and multisport mode.
Records your heart rate, SWOLF, calories and more while swimming.
Features advanced training analysis such as VO2max, training effect, training load, threshold pace, etc.
Download, create custom workout plans and share.
Tracks floors climbed, elevtion, cadence, stride lenght, steps, etc.
Tracks elevation and weather information.
Has blood oximeter sensor that monitors your blood oxygen levels and can notify when its safe to climb.
Supports sport services such as Strava and TrainingPeaks.
Pros
A premium, rugged and durable smartwatch.
Long battery life.
A comprehensive fitness tracker.
150 meters waterproof.
Cons
Lacks loudspeaker and microphone.
No music storage.
Video
Coros Vertix Review
Prices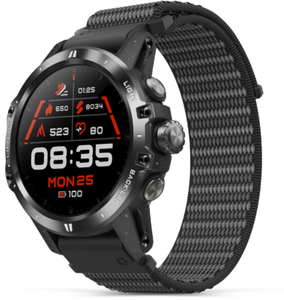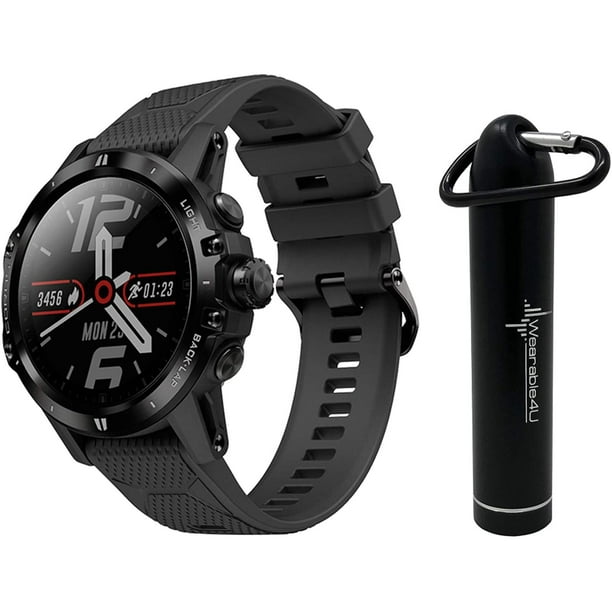 Additional information
| | |
| --- | --- |
| ABOUT DEVICE | |
| Device name | |
| Device type | |
| Gender | |
| Release date | |
| Predecessor | |
| Successor | |
| Versions | |
| BODY | |
| Dimension | |
| Weight | |
| Shape | |
| Case material | |
| Strap material | |
| Bezel material | |
| Strap size | |
| Screen protection | |
| Water resistance | |
| Durability test | |
| Swim-proof | |
| Color | |
| DISPLAY | |
| Display size | |
| Display type | |
| Display resolution | |
| Pixel density | |
| Always on | |
| Custom watch face | |
| Input type | |
| CONNECTIVITY | |
| Bluetooth | |
| Bluetooth calling | |
| GPS | |
| NFC | |
| Wi-Fi | |
| MEMORY | |
| RAM | |
| ROM | |
| Memory card slot | |
| CELLULAR CONNECTIVITY | |
| Technology | |
| SIM type | |
| Band | |
| NOTIFICATIONS | |
| SMS alert | |
| Calls alert | |
| Email alert | |
| Event reminder | |
| Third-party apps alert | |
| MEDIA | |
| Audio | |
| Bluetooth music | |
| Loudspeaker | |
| Microphone | |
| Camera | |
| Radio | |
| SENSORS | |
| Accelerometer | |
| Altimeter | |
| Ambient light | |
| Barometer | |
| Compass | |
| ECG | |
| Gyroscope | |
| HRM | |
| Pulse oximeter | |
| Thermometer | |
| Other sensors | |
| ACTIVITY TRACKING | |
| Blood oxygen | |
| Blood Pressure | |
| Calories | |
| Distance | |
| ECG tracking | |
| Fitness Level | |
| Heart rate monitoring | |
| Sleep tracking | |
| Steps | |
| Stress | |
| Incidental fall detection | |
| Menstrual cycle | |
| Floors climbed | |
| VO2 Max | |
| Swim-tracking | |
| Swim-heart tracking | |
| On-screen workout | |
| Sport modes | |
| BATTERY | |
| Battery type | |
| Battery capacity | |
| Battery life | |
| Charging type | |
| Charging time | |
| Solar power | |
| PLATFORM | |
| Chipset | |
| CPU | |
| GPU | |
| Operating system | |
| MISC | |
| Companion app | |
| Compatibility | |
| Payment system | |
| Interchangeable strap | |
| Voice command | |
| Find my phone | |
| Box content | |